Heather Tom
starring in



by Jack Heifner
The Long-running Off-Broadway Smash Hit Comedy!

Also Available for Lectures, Film, Television,
Stage and Radio Appearances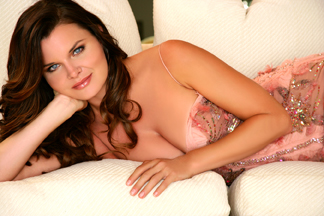 Heather Tom
A Biography
Two-time Emmy Award winning actress Heather Tom is currently starring as Katie Logan in the world's #1 watched daily drama, CBS's "The Bold and The Beautiful", viewed in over 150 countries.
Heather is possibly best known for her 13 years starring as the tempestuous Victoria Newman on CBS's "The Young and The Restless". She also recently spent 3 years starring as Kelly Cramer Buchanan on ABC's "One Life To Live".
Heather Tom is the most Emmy Award Nominated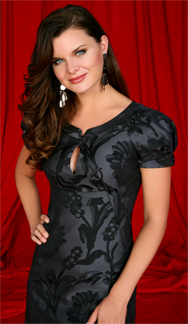 Actress under the age of 35, according to the National Academy of Television Arts and Sciences. Only 15 years old when she booked her coveted role on "The Young & the Restless", Heather won her first Emmy Award at the age of 16 for Outstanding Young Actress in a Drama Series (1993) and her second Emmy in 1999. To date, Heather has received 12 Emmy Award nominations (eight of them consecutive); nine for her role as Victoria Newman, two for her role as Kelly Cramer, and one for her role as Katie Logan. Heather also won the 1997 Outstanding Younger Lead Actress Award on "The 13th Annual Soap Opera Awards".
In 2000, Heather and her brother, David, made Hollywood history as the first brother and sister to ever simultaneously be nominated for Emmy Awards in the same year. In March 2004, David Tom joined the cast of "One Life To Live" playing brother Paul Cramer to Heather's Kelly Cramer Buchanan, making them daytime's only siblings both on and off screen.
In addition to her extensive television work, Heather stars as Mary in J. Cast Productions' national tour of the Off-Broadway Smash Hit Comedy Vanities, performing throughout the USA and Canada to rave reviews and sold-out houses. Now touring for the thirteenth year, she performs with co-stars Sonia Satra and Allison McDonell whenever her shooting schedule allows.
Heather made her Broadway debut in the Mark Medoff (Children of a Lesser God) play, Prymate playing Allison, a role for which she became fluent in sign language. Other New York theatre credits include: Jenn in Happy Hour; Chrysothemis in Electra; Barbara Northrup/Marjorie Cameron in Moonchild; and Polyxena in Hecuba. Regional and west coast credits include Marilyn Monroe in The Secret Letters of Jackie and Marilyn; Betsy in Lemonade, co-starring with Maxwell Caulfield; Laura in The Glass Menagerie, with Barbara Babcock; The Class of 1990; Women and Wallace; Juliet in Romeo and Juliet, and The Greatest Christmas.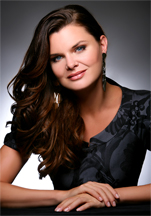 In 1996 Heather began producing theatre with "Dr. Quinn Medicine Woman's" Chad Allen. They successfully produced a revival of Neil Simon's Biloxi Blues, with Heather appearing in the role of Daisy, alternating the role with her sister Nicholle Tom ("The Nanny," Beethoven films). The revival won five Dramalogue Awards, quite an accomplishment for a first time producer. In the summer of 2003, she produced Talking With starring 11 women from daytime television, with all proceeds benefiting Planned Parenthood.
Heather was born on November 4th in Hinsdale, Illinois and began acting in commercials at the age of two. When she was ten years old, she moved with her family to Seattle, and started dancing with the Seattle Pacific Ballet.
When she was 13, her mother made a temporary move with the young actress and her twin siblings, Nicholle and David (Pleasantville, "Veronica Mars," "The Young & the Restless") to try their luck in Hollywood. Heather and her siblings all found immediate success in this competitive industry and the three week trial turned into a permanent move to the City of Angels.
Heather took acting classes at the Young Actor's Space paying for each weekly session with the money she earned working at a cookie store. Even at a young age, acting gave her a euphoric feeling. "The feeling of losing the audience for a moment and truly becoming connected with the scene and the character is absolutely incredible," explains Heather.
Heather's additional television credits include recurring roles on "Ugly Betty" as Holly Wright; David E. Kelley's "The Wedding Bells" as Laurie Hill, and "All My Children" as Kelly Cramer Buchanan. She has guest-starred on "Monk," "Law & Order: Special Victims Unit," "Diagnosis Murder," "Who's the Boss," and "Kids Incorporated" along with co-starring in many projects including the CBS Movie-of-the-Week, "Deadly Whispers" opposite Tony Danza, and the ABC Movie-of-the-Week, "She'll Take Romance". Heather's film credits include The Rival; Delusion, When We're Old and Love Means Nothing, City Teacher, Stiffs, Undone, Lessie's Rainbow, Looking Good, and Ray's X-vision. She has appeared on numerous award shows, talk shows and game shows, including "Hollywood Squares," "SoapTalk," along with Co-Hosting on Barbara Walters's "The View" twice.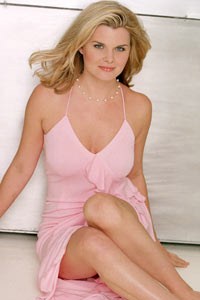 Recognizing how fortunate she is to be a working actress, Heather is devoted to helping others. In 2003, Heather created Daytime for Planned Parenthood, a committee which promotes a women's right to choose as well as access the latest in medical care. Her role as committee chairperson has given her the opportunity to lobby Congress on behalf of Planned Parenthood.
Heather has a passion for politics, and is very politically active. In 2004, Heather was a featured speaker at the Democratic National Convention kick-off event sponsored by Planned Parenthood and the Feminist Majority. Heather has also worked with SheVotes.org and "Rock the Vote" to get younger voters out to vote.
She has frequently appeared on political discussion shows, such as "Politically Incorrect" with Bill Maher and "Scarborough Country". During the acclaimed run of "Politically Incorrect", Heather appeared a record 5 times, sparring with such heavyweights as Lou Sheldon and Jerry Falwell.
Heather is also extremely active with charities such as Project Angel Food, Broadway Cares/Equity Fights AIDS, AIDS Project Los Angeles, and Tuesday's Child.
In her spare time, Heather spends hours reading plays, scripts, and classical literature. She loves to travel and shop with her friends. She's also an avid art collector and has amassed an impressive collection of sculpture, paintings, and prints. Heather can also be found at various Southern California Flea Markets. She and her boyfriend, James Achor, formed Jane Doe Designs and have redecorate several homes in the Los Angeles area. Heather also enjoys sharing her passion for acting with people across the country; teaching young, aspiring actors improvisation, scene study and on-camera work.
Go To: VANITIES story line
Cast:
Heather Tom
Sonia Satra
Allison McDonell

Jack Heifner , Playwright
John Castonia , Director/Producer

This national tour of VANITIES has been on the road since October 1996 with
2-Time Emmy Award Winner Heather Tom.


For Bookings or Appearances, Please Contact:
J. Cast Productions • 2550 Greenvalley Road • Los Angeles, CA 90046-1438
(323) 822-1999

email: JCast@CastProductions.com

Copyright © 2000 - 2009 J. Cast Productions - All rights reserved.