Perhaps it is the glimmer of mystery and mischief in his eyes. . . or, it may be the colorful characters he portrays. . .or the legendary status of Mr. Antonio Fargas is best explainable by a combination of these and a number of other factors. Through the unique intersection of variables of his delightful versatility and extraordinary talents, Antonio Fargas has entered his image into national and international folklore. He achieved a worldwide audience through his role on "Starsky and Hutch" as the incorrigible and lovable "Huggy Bear" launching a path to credits far more extensive.
Since his initiation into the world of film at the age of 14 in Shirley Clark's Coal World, he has been noted for the unforgettable characters he creates. Whether perfecting outrageously comedic characters in such films as Robert Downey Sr.'s Putney Swope and Keenan Ivory Wayan's I'm Gonna Git You Sucka, or "chilling" the audience through a convincing rendition of a 90-year old witch doctor in the Broadway play, The Great White Hope, with James Earl Jones and Jane Alexander. Antonio's performances have generated a near-endless array of enthusiastic acclaim from some of the industry's most respected critics of film, television and stage. His character range has won him acclaim for his sensitive character portrayals of the homosexual roles of Bernstein in Paul Mazursky's Next Stop, Greenwich Village with Shelley Winters, Christopher Walken and Jeff Goldblum and for his role as Lindy in Carwash with Richard Pryor, George Carlin and The Pointer Sisters. These two roles also earned him mention in the film book "The Collective Closet".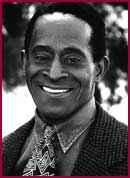 Additional film credits include: The Riff with Nia Peeples, 3 Strikes with David Alan Grier, Unconditional Love with John K. Horne and Sheryl Lee Ralph, The Suburbans, Milo, Don't Be a Menace with the Wayan Brothers, The Borrower, Whore with Theresa Russell, Shakedownwith Sam Elliott and Peter Weller, La Notte degli squali with Treat Williams, Howling VI: The Freaks, Model Behavior, Streetwalkin', Crimewave with Louise Lasser, Firestarter with Drew Barrymore, Heather Locklear, David Keith, Martin Sheen, George C. Scott and Art Carney, Up The Academy with Tom Poston, Ralph Macchio and Ian Wolfe, Milo, Milo, Pretty Baby with Susan Sarandon, Keith Carradine and Brooke Shields, Cornbread, Earl and Me with Laurence Fishburne and Moses Gunn, Foxy Brown with Pam Grier, The Gambler with James Caan, Paul Sorvino, Lauren Hutton and James Wood, Conrack with Jon Voight and Hume Cronyn, Busting with Elliott Gould and Robert Blake, Cleopatra Jones with Bernie Casey, Across 110th Street with Anthony Quinn and Anthony Franciosa, Cisco Pike with Kris Kristofferson, Gene Hackman and Karen Black, Shaft with Richard Roundtree, and recently Bad Guys Extreme Honor and Lesser of Three Evils, to name a few.
With over 4 decades in the entertainment industry, Antonio's television credits include starring, recurring, and guest starring roles on such shows "All My Children," as the character Les Baxter, "Living Single," as Otis Jones, "The Simpsons," "Everybody Hates Chris," "Eve," "The Fresh Prince of Bel-Air," "Martin," "The District," "Damon," "L.A. Heat," "The Steve Harvey Show," "Fastlane," The Wayans Bros.," "Good vs. Evil," "MacGyver," "Miami Vice," "Hardcastle and McCormick," "Charlie's Angels," "Chips," "Vegas," "The Love Boat," "Kojak," "Police Woman," "Sanford and Son," "Police Story," "The Bill Cosby Show," plus others. A few of his European television credits include: "T4," "GMTV," "Loose Lips," "Holby City," "This Morning," "La Belle Anglaise," "I Love The 70's." He has also appeared on numerous talk shows both abroad and most recently in the US twice on "The Jimmy Kimmel Live".
Antonio's Movies-of-the-Week credits include: BBC's "Soul Survivors," with Ian McShane and Issac Haye, FOX's "Ali: An American Hero," NBC's "Maid For Each Other" with Nell Carter, Dinah Manoff and Joyce VanPatten, "Escape," and the "Ironside" - Series Pilot Movie with Raymond Burr, HBO's "Florida Straits" with Raul Julia and Fred Ward, ABC's "Paper Dolls" with Joan Collins, Daryl Hannah and Craig T. Nelson, "Huggy Bear and The Turkey," and "Huckleberry Finn" with Ron Howard and Merle Haggard, PBS's "Denmark Veresy," CBS's "A Good Sport" with Lee Remick, "The Ambush Murder" with James Brolin, Amy Madigan and Alfre Woodard, and "Nurse" with Michael Learned, along with others. Antonio can also be seen and heard in many animations, video games, voice-overs, and video games such as: the animation - Osmosis Jones with Bill Murray and Chris Rock and the video game Driver 2 as Detective Tobias Jones.
His additional theatre credits are extensive from Broadway to London including: Driving Miss Daisy, Melvin Von Peeples' Ain't Supposed to Die a Natural Death, North Carolina Repertory Stage West's (in Springfield, MA) and The Rainmaker, the Dever Center's The Emperor Jones, The Mark Taper Forum's Dream on Monkey Mountain, the New York Shakespeare Festival's Measure For Measure and Romeo and Juliet and in Europe his initial West-End performance was in James Baldwin's The Amen Corner in 1966. Antonio was united in 1988, after 20 years with "Starsky and Hutch" co-star David Soul in London in the production of the black comedy The Dead Monkey. In 2000 ­ 2002 he returned to London's West-End's Whitehall Theatre along with doing a UK tour in the smash hit musical Blues Brothers doing Cab Calloway's hit song "Minnie The Moocher".
Antonio and his musical partner Gumbo formed a hip-hop production company, Bumpit Entertainment, as an outlet for his musical approach of old school hip-hop fusion and to give young artists an opportunity in the music industry. Bumpit Entertainment has a CD in development for Antonio and recently he teamed with Fat Face Records in the UK to record the single "Big Bertha Butt" featuring a animation CD/DVD.
Antonio is always uniquely aware of the role of theatre, music, film and art as cultural art forms, particularly so called black theatre and the black church in their role in the preservation of black cultural and history.
Antonio being the proud father of four - Justin, Matthew, Kevin and Tiffany with the love of his life - Sandi, enjoys the fruits of his labor in Los Angeles. When at home, Antonio enjoys hosting a friendly game of Friday night poker with his peers and can be found on Sundays in Football Stadiums cheering for and supporting his son Justin's Football career with the NFL - Oakland Raiders.