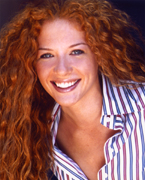 Rachelle Lefevre can currently be seen in the hit FOX comedy "Life on a Stick" as Lily, whom Lefevre describes as "the free-spirited wild-card, not your average girl-next-door type." She also recently filmed a starring role in the FOX comedy pilot "Pool Guys."
Canadian born Lefevre got her show business break when she secured her first audition with the help of a loyal customer at the sushi restaurant where she worked. The show was the FOX Family Channel series "Big Wolf on Campus." Though she had no film or television credits to her name and used a polaroid picture as her headshot, the producers called her back for a second audition and she ended up landing a lead role. Some of her other television credits include the ABC Family channel movies "Picking Up and Dropping Off," with Scott Wolf and "See Jane Date," in which she played the witty and sarcastic best friend to Charisma Carpenter's Jane. She also landed the starring role of Etta Place in NBC's "The Legend of Butch and Sundance," a role originated by Katherine Ross in the classic film.
Rachelle will next be seen on the big screen opposite Ed Burns in The River King. In the film she plays Carlin, a trouble teenager haunted by the loss of her best friend Gus; a role she won via home-produced videotape. The River King can soon be seen at the Cannes Film Festival where it will be premiering this May. Lefevre also starred in the independent film Hatley High which was recently honored with an award for Best Feature at the HBO Comedy Arts Festival. Other big screen credits include Confessions of a Dangerous Mind, in which she played Tuvia, Chuck Barris' grown-up childhood crush, Stardom, and the short The Big Thing, selected for multiple film festivals.

In addition to her extensive television work, Rachelle performs the role of Mary in J. Cast Production's national tour of the Off-Broadway Smash Hit Comedy Vanities performing throughout the USA and Canada. Working around her TV shooting schedule with co-stars Sonia Satra and Ashley Jones. see links below
Rachelle was born and raised in Montreal, Quebec but currently resides in Los Angeles to work on her series and continue to pursue her growing film career. With all of the great hiking trails in Los Angeles, Lefevre looks forward to adopting her first dog and spending time running out doors, something that was difficult in Montreal's extremely snowy climate. While living in Montreal, Lefevre helped out part time teaching English at local high schools and is now eager to become involved in educational programs in Los Angeles as well. When she's not working she enjoys cooking, horseback riding, scuba diving and frequently travels to one of her favorite cities, London, England.